This is hard work. New shit comes out and to keep myself current in my skills and knowledge I've got to get it. Well, that's what I tell my wife anyway ;)
Today I became the proud owner of a Nokia Lumia 928. Unlike my last razzle-dazzle for an off-contract phone, this time it was quite straightforward. Verizon has had this phone at the cheapest of any place off-contract. Only recently did prices fall at Amazon to match them. Since there's a Verizon store just down the road from me, the choice was easy.
The struggle I had in getting this phone was that it seemed that Nokia (or Verizon) are really pushing the white model over the black one. So much so that I was told by a VZW rep that when the Nokia rep came to their store, she didn't even know if VZW was going to sell anything other than the white version. Sure enough, try and get your eyes on a black one and you'll see what I mean. They seem to only be available online, and rarely for "in store pickup" or anything of the like.
So I went to my local VZW with intentions of just seeing & handling a 928, knowing it'd be a white one. When I saw it I definitely knew I'd be getting one. The more I thought about it, it occurred that while I'd prefer to have black, white might just be the conversation starter that Windows Phone needs. So I opted for the white as 1) I could get it right there and then and walk home with it in my hand, 2) I think this might afford me more opportunities to show off Windows Phone to the masses, and 3) the ever-sly salesman provided me with a $20 black gel case.
Let's get on to the first impressions, shall we?
Hardware
The outer casing is nice, buttons are pronounced enough to easily find and manipulate. After having the HTC Trophy I certainly appreciate this. The button layout on the 928 matches that of the 822 with all 4 buttons (volume up/down, power, camera) running along the right-hand side (as you look at the screen upright). The one thing I can't for the life of me understand is what on earth made them put the micro USB port on the top of it. In some instances I can see where this might make sense, but overall it seems quite awkward. Especially when you put it in your car's dash mount and try and plug in a charger – I'm working around this by just having the phone sit horizontal in the mount all the time now instead of vertical. If Microsoft eventually makes the Windows Phone start screen workable in landscape mode (I suggested this before WP7 Mango) this will pose much less of an issue.
The battery is freaking huge. I don't think you really realize how much time you get out of a 2000mAh (or how long it takes to charge one) until you have it. This thing has been on the charger for seriously the past 8 hours and still isn't full. Granted, I have been using it off and on but still – my 822 would've been fully charged by now I'm sure of it. I can't wait to see just how much time I get out of a full charge!
Putting the SIM card in is no easy task. It was harrowing to watch the VZW rep do it – and I'm glad it was him doing it and not me. He was practically forcing the SIM tray back in to the top of the phone. I haven't had the balls to open it back up and see if he actually did it right or not – just going to let it work.
Size
Big. Like, Galaxy S4 big. Keep in mind the frames of reference for me are the HTC Trophy, then the Lumia 822. Those are the only other smartphones I've ever owned. My wife has had the Motorola Droid, HTC Incredible, and now the iPhone 4S. All of those are also "small" by today's standards. This thing is substantial. The upshot is that it's not heavy.
Storage
Definitely adequate for my purposes. I am happy that they opted for 32gb of on-board memory – if it had been 16 and not expandable I probably wouldn't have bought it. I have a 64gb Micro XDHC card in my 822 on top of its 16gb of internal storage, so I know that 16gb w/o anything external just isn't going to cut it for me.
Camera
When I got home the first thing I did was tell my wife to take a picture of one of the boys (late afternoon, inside, cloudy day, shades drawn) without using the flash. Of course as you know I'm setting her up to see just how good the PureView camera is. The picture it took was awesome. She was impressed.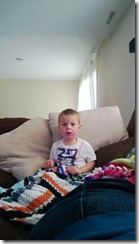 Of course my endgame here is to eventually get her off that God-awful iPhone!
About the only thing I could wish more for in this area is the stabilization that the 920 offers; the 928 doesn't appear to bring this to the table. Or if it does maybe I have early-onset Parkinson's.
Goodies
One thing the 928 has that my 822 doesn't are a couple of add on apps. Or, if the 822 could get them I didn't know and it never installed them
Storage Check
Allows me to see how my storage is being used, and clear the "Other Storage" area that annoys all us OCD WP8 owners out there. Here are a couple of screenshots of what it looks like:
network+
Looks like I can use this to turn on Call waiting and Call forwarding right from my phone. Pretty slick: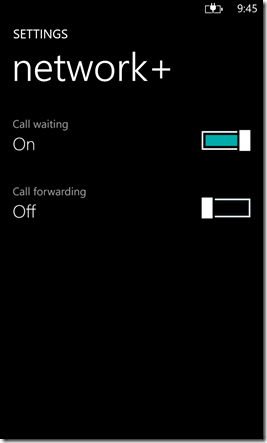 find my phone
The bug I reported to Windows Phone Support and Nokia appears to be fixed in the firmware/core OS of the 928; 'find my phone' shows the correct status and expected options:
As I said above, I did end up adding a black carbon fiber-ish gel case to my phone to help cover up the white and it doesn't look half bad. Here's what I'm carrying around now! (Photos taken by my 822)
Here's are a couple of shots of the HTC Trophy, Lumia 822, and Lumia 928 both side-by-side and stacked:
Don't forget!
If you're as badass as yours truly and pick up a 928 between now and June 23rd, claim your $25 Windows Phone Store credit!