Ok so this feud between Microsoft and Google has gone far enough. Yesterday the core apps for Windows 8 were updated (People, Mail, Calendar, Messaging) and the capability to integrate with Google Calendars has gone away. You now only get Google Mail, via IMAP – and even that is flakey (I still can't get sub-folders of Inbox to sync).
With this in mind, it's time for me to ditch Google Calendars as much as I can, so that I can still have some semblance of sanity in my life – and by that I mean know what the hell's going on. Without a calendar always on me to provide reminders, I would forget to eat lunch. Literally.
"Why are you even using Google Calendars, dude?"
Yeah, yeah, a legit question. Suffice it to say my wife was the first one to own a smartphone in our house, and at the time it was an Android. So… there we were, like so many others, stuck in the ecosystem. We've since both moved on (I moved up [wp8], she didn't [iPhone]) and so now it's time to break out of our chains.
So how do we do this?
First I had a look at the Hotmail calendars to make sure they would serve our needs. Mainly there is only one – the ability to share with people and give them read and/or write access to the calendar.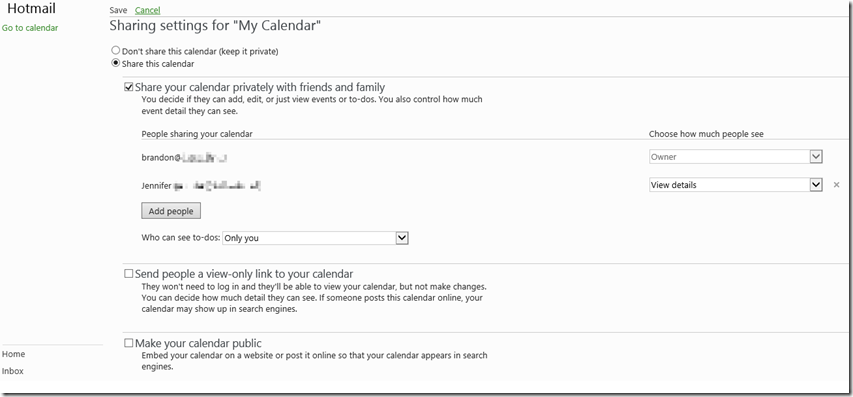 Check and mate. Sayonara Google. Let's do this.
In your Google calendar, head to the Settings area: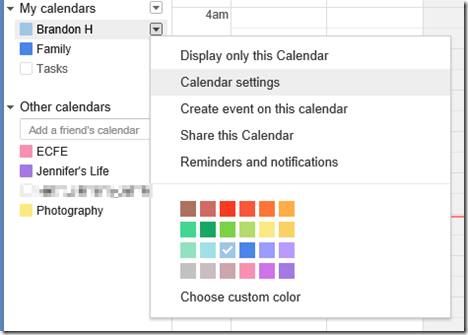 Hit the private iCal button:

Click the link shown, save to a spot on your computer (Desktop is fine, it's temporary after all)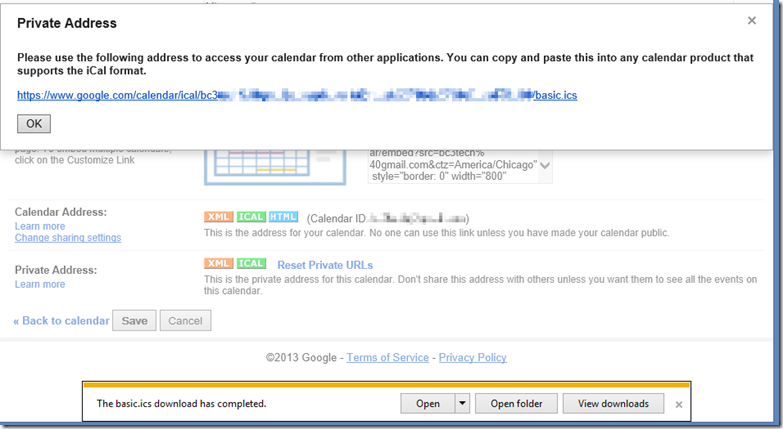 Now what you have is a copy of all your calendar data; enough to replicate it elsewhere. Now where could that be…
Head over to your Microsoft Account – most namely the Calendar area
Here you have two choices, you can either take the data from the ICS file and import it into a calendar you already have on Live.com, or you can create a new calendar with this data. For my purposes, I wasn't ever using the 'My Calendar' that is the default calendar on Live, so I am importing the ICS in to that. The other method is trivial to accomplish once you see how this is done.
At the top of the calendar screen, click Subscribe.

Choose Import from an ICS file and pick the file you downloaded from Google. Here is where you pick whether or not you want to put the data in to a new or existing calendar: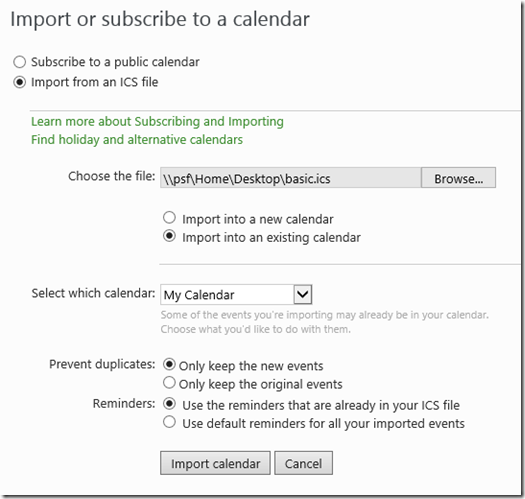 I left everything else as defaulted. It imported all my data, recurrences and all, and now I get to drop Google for my personal calendar.
Another bonus that Hotmail gives you is the ability to subscribe to other calendars. This even works to subscribe to Google calendars. The downside here is you will only get Read access to these, even if you've been granted Write access by the Owner of the Google calendar to which you're subscribing. To do this, read on.
Go to the Google Calendar you want to subscribe to, click Calendar Settings again. This time, copy the link of the Private iCal and instead of Import an ICS in Hotmail, you'll Subscribe to a public calendar and paste this link in there. You get to give it your own name, and it'll show up on your Windows 8, Phone, and other devices as well. Awesome.
Caveats
Private URLs in Google Calendar are only available if you're given full access to the calendar. That is, you share "admin/owner" privileges with somebody else, or you own the calendar yourself. The former is my case – I share privileges with my wife. The downside is that in Hotmail you'll only get read access, not read/write.
If you're viewing a calendar in Google Calendars that you've only been given read access to, you won't get the ability to expose a Private Calendar URL. Only the owner can do that. You can expose the public one, but will only see whatever the owner has exposed to public view. It doesn't appear as though you can get a URL that gives you the equivalent privileges on a different platform. Bummer.
Google Apps users (businesss) may or may not be able to expose Private calendar URLs. I am not my job, but it might be a function of permissions set up by the account manager – I'm not sure.
That's about as good as it gets, folks. I'd suggest family meetings and/or pre-configuration of your loved ones' devices to ease the transition.
Enjoy!