As you've probably already read, I am the proud new owner of a Nokia Lumia 822.
Obviously as a Windows Phone developer, this was as much a 'want' for me as a 'need'. I had asked my friends and family to give me Best Buy gift cards this holiday to help me in purchasing just such a device as I would have to buy it off-contract in order to keep my unlimited data plan through Verizon. To do this, at that time, I needed $549.99 to get it at my local Best Buy store.
Then along came this e-mail:
…
We are dedicated to having the best pricing on the products people care about most, like smartphones, tablets and televisions. And if for some reason we don't have the lowest price, we will match any price on our hardware products, whether that price comes from a traditional "brick and mortar" store or a major online retailer.
…
(emphasis mine)
This was sent by the Best Buy Sr. VP of US Retail. When I read that, I immediately checked AmazonWireless for my phone. No dice. Until this past weekend, when all of the sudden all the Verizon Windows Phone 8's showed up on the site. And the 822 was listed at $399.99 full-price. Jackpot.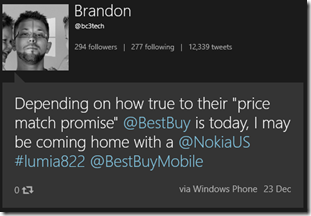 I printed out Best Buy's listing from their website ($549.99), Verizon's listing ($449.99), and Amazon Wireless' listing ($399.99) and headed to my local Best Buy, with $330 in gift cards and RewardZone certs in tow.
When I got to the store, the day before Christmas Eve, it was pretty busy. There were "Corporate Support Staff" folks manning the front doors and I thought I might as well get the rejection out of the way early. I showed the both of them the e-mail, and the prices. I asked if I should expect any problems. "No that all looks fine, but mobile phones are kind of 'special' so you'll probably want to work with the manager." No problem.
I headed over to the mobile phones area and was greeted by a rep right away. She even got the phone out for me and brought it to me to take to the counter. I showed her my plans and she talked to her manager.
We don't match full-price smartphones under any circumstances, unfortunately.
I was told. Seriously? How is a full-price phone any different than walking in and buying an Xbox, a pair of headphones? I went back to the corporate folks and told them what'd happened. They went and talked to a couple of more managers to come back and tell me that it was the unfortunate truth.
In true social-media style, I went back to Twitter.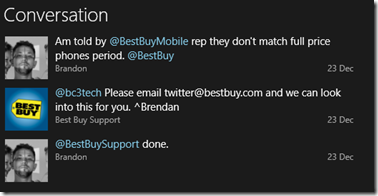 And I waited. Until Thursday. After getting no reply from Best Buy's "twitter support" I took a stab in the dark at the e-mail address of the Best Buy Sr VP who had put his name to the "Our Promise to You" e-mail.
And I hit.
Sent: Thursday, December 27, 2012 2:03 PM
To: [me]
Subject: Best Buy's Promise To You

Brandon:

Thank you for investing the time and effort to contact [vp] at the Best Buy corporate office regarding your recent experience. I have contacted our teams in the field regarding your concerns and you will receive a response to this matter in the next few business days. Thank you for your patience and please contact me back directly should you have any additional concerns.

Sincerely,

Senior Executive Resolution Specialist
Best Buy Corporate Campus

From: Brandon
Sent: Thursday, December 27, 2012 8:43 AM
Subject: RE: Best Buy's Promise To You

Dear [vp],
As a premiere silver member for 3 years now, I was happy to receive the email below from you promising to really compete with almost ANYBODY this holiday season. I have been a fan of Best Buy since I was a child.
This year I had my sights set on a new Nokia Windows Phone, but one that I would be purchasing at full price (off contract).
Contrary to the email below, the representatives at [location] told me they do not price match the full price of smartphones under any circumstance. Even when the Verizon store next door has the Lumia 822 for less at full price.
I have to imagine this is not what you had in mind for your retail customers so I wanted to see if there is any help or clarification you can provide. I also emailed the @bestBuySupport twitter acct on Monday after returning home from the store empty handed, but have yet to receive a reply.
Let me know if you need any more information. I hope you can show us all that you stand behind your word on making the premiere electronics retailer in the US also the most competitive, and I look forward to seeing it happen!
Thanks,
Brandon
And it must've flowed down damn quickly
Sent: Thursday, December 27, 2012 2:54 PM
Subject: Nokia Lumia 822 Price-Match

Brandon,

Thank you for reaching out in regards to your price-match question. I apologize for your recent experience with my staff and would love an opportunity to make things right for you. To be honest, I was a bit surprised to read in your email that someone from the team here at the [location] Best Buy store denied a price-match for a local competitor – and am very curious to learn more details in regards to who you spoke with. Was your experience at the Best Buy stand alone location, or the Mall location? Do you remember the name of the associate or manager you spoke with? I can assure you, I take customer loyalty very seriously and will be following up with the individuals that denied your request for a price-match – and apologize for any inconveince this may have caused.

In your note you mentioned a match you were looking to do with the Verizon store – I did verify that Verizon does indeed have the retail price of the phone in question at $449.99 (compared to our full-retail of $549.99), and I can gladly match the Verizon price and would also offer up an additional $20 off the matched price as an apology for the mis-communication and any inconvenience this may have caused. I do have a Nokia Lumia 822 on-hold for you at our customer pick-up counter here at our store. If you'd prefer, I can have one of my sales operators contact you via phone to process the transaction so you can simply swing by and pick-up the phone at your earliest convenience. If not, the phone will remain on hold until we hear from you – so feel free to let me know how you'd like to proceed.

Again, I apologize for any inconvenience this may have caused – your business is much appreciated!

General Manager
That e-mail was followed up minutes later by a phone call to my house from yet another manager of the store telling me the same thing; a phone was waiting for me.
So I took my same ammo (printouts, gift cards, and RewardZone certs) in to the store and walked out with a Lumia 822 for $380. #likeaboss
Like a good citizen, I've e-mailed back the VP and the Manager to thank them and let them know that everything worked out in the end. I can only imagine somebody got cussed out somewhere, but if we don't keep them to their word, who will?
UPDATE: As reported by BusinessInsider, it appears that the holiday price matching guarantee now has a permanent implementation at Best Buy. This is great news for us as consumers, but I'd definitely keep a good Social Media strategy in your back pocket for when they decline to match a price for you.